Jako że za oknem zawitała wiosna, a dni stają się dłuższe i bardziej ciepłe, zaczynamy więcej czas spędzać na świeżym powietrzu, co jest doskonałym momentem na to, aby zmienić naszą sylwetkę. Zazwyczaj, wykorzystujemy aktywności na świeżym powietrzu do tego, aby pozbyć się nagromadzonych przez okres zimy kilogramów, rozpoczynając odchudzanie.
Jednak czasem trudno jest przejść przez natłok informacji związanych z dietą i treningiem, a my zaczynamy czuć się zakłopotani, przez co nasze chęci na aktywność spadają. Jednak, zamiast rzucać wszystko i się załamywać, warto poszukać miejsca dla siebie, gdzie będziemy mieli możliwość uzyskania niezbędnych wiadomości, w sposób przystępny i w miłej atmosferze. Takim miejscem, które powinna odwiedzić każda kobieta jest strona internetowa fitwomen.pl.
Fitwomen.pl to portal, który powstał z myślą o kobietach, które nie boją się wyzwań i chętnie spróbują czegoś nowego. Znajdziecie tam wszystko, co potrzeba, aby zadbać o dietę i trening. Znakomitą opcją jest wybór fit przepisów, gdzie poszczególne składowe można kupić bezpośrednio na stronie. Co więcej, strona mocno obfituje w treningowe porady, które wskażą nam drogę aktywności, przybliżających nas do wymarzonej sylwetki.
Strona internetowa jest dodatkowo wyposażona w szeroką gamę suplementów diety, które przez naszych pracowników zostały specjalnie wybrane pod kątem potrzeb organizmu kobiety. Znajdziecie tam produkty redukujące tkankę tłuszczową, które nasilają tempo utleniania tłuszczy, jak i pozwolą na kontrolowanie łaknienia. Ważnym elementem jest też grupa wspomagająca uzupełnienie diety w niezbędne składniki funkcjonalne jak witaminy, minerały, czy zdrowe tłuszcze. Zadbaliśmy również o to, aby na stronie nie zabrakło suplementacji wspomagającej kondycję zdrowotną włosów, skóry i paznokci, co pozwoli na utrzymanie Twojego naturalnego piękna.
Doskonale zdajemy sobie z tego, że każda z kobiet posiada inne potrzeby co do własnych celów treningowych, czy postanowień zdrowotnych. Dlatego na fitwomen.pl znajdziecie najbogatszą ofertę produktów, które ukierunkowane są na zdrowe odchudzanie bez efektu jojo, które pozwolą Wam wymodelować sylwetkę, jak i poprawią funkcję zdrowotne. Każda kobieta znajdzie suplement, który będzie odpowiadał jej wymaganiom, bez kłopotu radząc sobie z odchudzaniem i sprawiając, że sylwetka nabierze nowego wyglądu.
Fitwomen.pl to również miejsce, gdzie będziecie mogły dopracować aspekt dietetyczny. Tematyką związaną z odpowiednim odżywianiem zajęliśmy się w sposób szczególny. Znajdziecie na stronie wiele artykułów, napisanych w sposób przystępny tak, aby bez problemu pojąć znaczenie diety, jak i móc samodzielnie podjąć się jej prowadzenia, wyliczając podstawową przemianę materii, a także podział makroskładników. Dodatkowo, w razie problemów z poradzeniem sobie z aspektami związanymi z dietą, użytkowniczki mają możliwość uzyskania porad, co pozwoli na udoskonalenie diety, która będzie przynosić jeszcze większe rezultaty.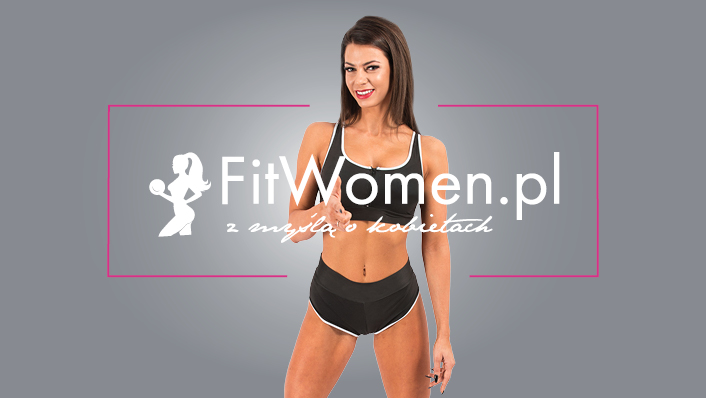 Jednak dieta i trening to nie wszystko. Zakładka "beauty" znajdująca się na stronie obfituje w szereg porad związanych z pielęgnacją ciała, gdzie dowiecie się wszystkiego o tym, co robić, aby wasza skóra była jędrniejsza, a włosy i paznokcie bardziej wytrzymałe. Nasze porady zawierają dołączone nazwy produktów, jakie wykorzystać można, aby utrzymać nienaganną kondycję włosów, skóry i paznokci, co znacznie ułatwi dobór odpowiednich środków tak, aby nie doszło do nieporozumień w ich zakupie.
Jeśli szukasz miejsca dla siebie, w którym to znajdziesz odpowiednio przygotowane porady dietetyczne, wskazówki treningowe, jak i wyselekcjonowane suplementy diety specjalnie dla kobiet, to portal fitwomen.pl jest odpowiednią propozycją dla Ciebie. Duża baza danych z fit przepisami, duża liczba artykułów o diecie i treningu sprawią, że otrzymacie odpowiednią wiedzę ku temu, aby zmienić swoją sylwetkę. Wykorzystaj pogodę za oknem i rozpocznij z nami swoją podróż, a zobaczysz, że odchudzanie i modelowanie sylwetki jest dużo łatwiejsze, niż się to wydaje.